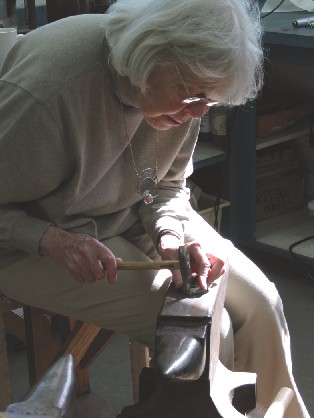 Virginia Gailey discovered her love for the arts as a child. While she had felt a very strong call to service in the Presbyterian Church she quickly discovered the limited opportunities for women in the Church of mid Twentieth century America. When a counselor pointed out that her ministry might be through Art, she never looked back. Her conviction of the relevance or art in the lives of every individual was central to her work throughout the rest of her life.

Before marrying in 1949 Virginia worked in display design for Atlanta's prestigious department stores Richs and Davisons. After a 12 year hiatus to raise two children she began her work as art teacher & art educator, working at the Westminster Schools and Georgia State University. A social acti-

vist, she designed programs using Art to integrate Atlanta schools. Her vision led to the program to place the works of emerging artists in Atlanta's MARTA rail stations.

GAIA JEWELRY

Creations of Virginia T. Gailey & Landen Gailey

After retiring to the mountains of western North Carolina, Virginia began to pursue jewelry making in earnest. Her highly original creations shown under the banner of "Gaia Designs" quickly gained a large following of fans. They were exhibited in local craft shows, garnering awards including a Best of Show, and were featured in
Art Jewelry
magazine.
Throughout her career and her life she continued to teach, mentor, and to encourage emerging artists & crafts people just finding their artistic voices.

September 15, 1923 - August 16, 2006

Imagine growing up in a household without coloring books, where drawing outside the lines was encouraged!  You might think that my little brother drawing in crayon on the wall would be scolded.  Instead, my parents painted our closet doors with chalkboard paint and attached a box of chalk to the door frame so our burgeouning artistic expression could evolve and flourish!

My own pursuits would lead me in many directions.  I spent countless nights in my Aunt Frances' darkroom during high school years.  After completing a BA in Art at Agnes Scott college I was director for a community Art Studio in an inner city neighborhood and worked on a City of Atlanta program to design and create play spaces for children in economically depressed neighborhoods.  For a number of years I supplimented my income working as an enamellist, selling works through craft shops & festivals and exhibiting occasionally.

My passion for animals, particularly horses and dogs, manifested itself early, much to my mother's chagrin!  The behavior of our fellow denizens of Gaia's earthship and their relationships to humans continues to fascinate me.  I started and ran a Dog Training & Day Care business in Atlanta, and continue to train my dogs & miniature horses and to teach training classes specializing in positive reinforcement methods.

Add the rhythm of music, and years spent as a professional

bassist and performer!

I share my life with Benny & our household dog & pony show! 

outside Hendersonville, and every day revel in the grandeur of the

western North Carolina mountains.

Relocating to North Carolina in 2002 gave me the opportunity

to re-focus my attention on jewelry making.  I learned metal clay

techniques from my mother, and completed PMC certification

in October 2006.  I continue to enamel and have a new found

passion for the torch!  Every day I work on honing my metalsmithing

skills and continuing the Gaia Jewelry tradition.